Oahu Circle Island Tours
Don't Miss Out the Grand Circle Island Tour Oahu
Once in Oahu, you should not miss out on the grand Oahu Circle Island Tours packages. Oahu is place of gorgeous beauty and you must explore every inch of the island.
As much as a helicopter tour is a must for the aerial view of the island, so is a Oahu hawaii circle island tour important to enjoy the natural and cultural beauty of the island. Usually such trips make a full 120 mile circle of the island which includes all the important places.
The Major Stops of Oahu Circle Island Tour
The major attractions of the Grand Circle Island Oahu Tour are the Hanauma Bay, the Halona Blowhole, the Diamond Head crater, and the Dole pineapple plantation. Get close to the celebrity homes of stars like Cameron Diaz on Kahulaua (Beverly Hills in Hawaii). Try finding your way out of the largest maze in the world through the pineapple fields of Dole and don't miss out the various sample pineapple products. Other famous places included in the Oahu Circle Island Tour are the Chinaman's Hat, Waimea Bay Beach Park, "From Here to Eternity" beach, Makapuu Lookout, and Nuuanu Pali Lookout.
Erupting volcano in Hawaii
Want to have a firsthand experience of the outdoor locations of movies like Jurassic Park and Godzilla? Visit the Koolau Mountains and Valley. Don't miss the visit to the picturesque Laie Point which gives a great view of the rock formations and the mountains. Check out the lively koi ponds and gardens surrounding the oriental architecture of the Byodo-In temple. Don't forget to take snapshots of the 3-ton bell, made entirely of brass. Finally, venture inside the temple to spend some time admiring the towering 9-foot lotus Buddha statue.
Pearl Harbor Combo Tour
Some Oahu Circle Island Tours are clubbed with the tour of the Pearl Harbor. This makes such tours a complete package. The Pearl Harbor attracts a lot of tourist attention since it highly influenced the World War II. Watch the 15 minute video on the attack on the Pearl Harbor and then go out into the sea to visit the USS Arizona Memorial. The Memorial is a white structure built on the sunken USS Arizona battleship which dips in the middle and is raised on both ends. The initial defeat of the US army is symbolized by the middle portion of the structure which is submerged in water.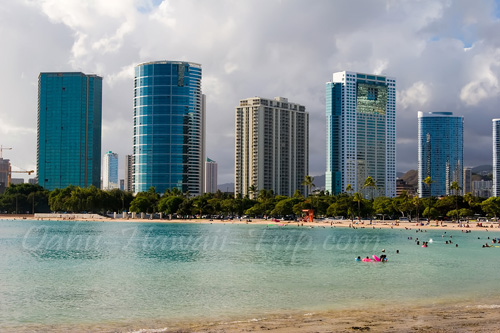 Ala Moana beach park fronting the downtown skyline in Honolulu Hawaii
There are different packages available for the circle tour of the island. They vary in prices but once here you should go for a Oahu Circle Island Tour.
Share Your Hawaiian Tours or Romantic Vacations: We're looking for stories, experiences and tips from any romantic Hawaii vacation or getaway you've been on. Why not take a few moments and Share it with everyone!
Return to Top