Oahu Wedding Reception - Every Bride's Dream!
Oahu Wedding Reception Guide - Are you looking for a fabulously romantic location for organizing your wedding reception? Think of Oahu. The unique combination of natural beauty and rich culture will sweep your guests off their feet. Add to that the great variety of dining options and services of some of the best wedding planners in the world and you have the perfect spot for your dream day.
Oahu is one of the most scenic islands of Hawaii, with a true tropical feel to it. You can be sure that your friends and family will be talking about the grand ceremony for a long time to come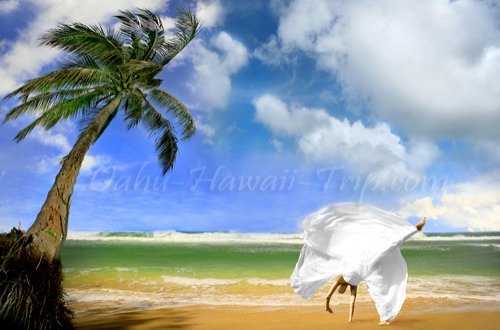 Getting Married In Oahu Hawaii
Locations for your Oahu wedding reception
To organize your big day party in this island, select the ideal location first. It can be either an outdoor event or a formal dinner reception. Make sure that you are happy with the venue, since it is your big day. There are plenty of beautiful beachfront hotels and private estates in Oahu that can serve as perfect locations for taking the vow. Take your pick with the budget in mind. There are the tropical gardens and scenic waterfalls that provide an ideal backdrop for the big day. In addition, you also have the historic Hawaiian chapels and churches, where you can get married.
Your guests can take part in facilities like kayaking with the sea turtles and watching the wild dolphin swims while they wait for your wedding reception. Once the ceremony is over, go out for a long walk along the beach with your partner, and enjoy one of the most romantic scenarios this Hawaiian island has to offer.
Ideal place for taking wedding photographs
Oahu offers pristine, white beaches and stunning views of the ocean. In addition, there are the picturesque waterfalls, green tropical gardens and oceanfront estates that can serve as ideal backdrops for your wedding photographs. A group of some very skilled photographers can preserve your Oahu Hawaii wedding reception in photos or videos. Be sure to enlist the services of at least one of these professional lensmen.
Wedding planners for your Hawaii wedding reception
If you run short of time while arranging your event, do not worry. Oahu has some of the most prolific wedding planners in the country, waiting to liven up your Oahu wedding reception with their out-of-the-box ideas and adept implementation of the same. Just tell them what you wish, and sit back. They'll take it from there, so that you can relax.
Share Your Oahu Weddings or Romantic Holiday: We're looking for stories, experiences and tips from any romantic Oahu Hawaii vacation or getaway you've been on. Why not take a few moments and Share it with everyone!
Return to Top